See Denali on an Alaska Cruisetour
Alaska cruisetours combine our top-rated Voyage of the Glaciers cruise with three to ten nights on land exploring Denali National Park. Travel aboard our exclusive
Direct-to-the-Wilderness Rail® train and unwind at Princess Wilderness Lodges®. Every year Princess introduces more people to Denali National Park than any other cruise line.
Cruise: Enjoy our top-rated 7-day Voyage of the Glaciers Alaska cruise vacation with two glacier-viewing experiences during your time on board.
Train: Enjoy scenic rail travel from the ship to the lodge via our exclusive Direct-to-the-Wilderness Rail® rail service for an all-encompassing Alaska cruisetour.
Lodge: As a part of your Alaska cruisetour, spend three or more nights on land at Princess Wilderness Lodges located riverside near legendary national parks.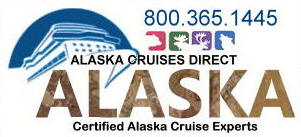 IMPORTANT: Read your cruise line's passenger contract: The contract contains your legal rights, the cruise line's legal rights and information about documentation you will need to to board the cruise. It is solely your responsibility to know what documentation is necessary. Failure to produce the proper documentation at time of boarding will result in you and your traveling party denied boarding. The ship will sail without you and you will not get a refund. It's critical that all cruisers carefully go through and understand what travel documentation, like passports and visa's are required based on your itinerary and the countries you visit. The cruise line posts such information on their web site. Find it - read it- print it! Check your cruise line documentation, tickets, boarding passes etc. and cross-reference your information. If something is incorrect or doesn't match up, get it corrected immediately. If you don't, you may find yourself standing at the dock waving as your ship sails off into the sunset.
NOTE: Government regulations require that guests must use their full legal name (exact spelling, including full middle name or initial as it appears on their passport), and accurate date of birth and gender. Failure to provide correct information may result in one or more of the following: paying additional fees, cancellation of flights, airport delays, denied pre-check-in and denied boarding or travel. Your passport must be valid for at least 6 months after your return date in order to travel.
NOTICE: Information posted on this web site was accurate when published, but rates, sailing dates, ports-of-call, discounts, special offers and amenities such as shipboard credit or cabin upgrades and all other aspects of any of the cruises listed at this web site can be changed by the cruise line or travel provider without notice. So, contact us or the cruise line to get the latest updated sailing schedule, itinerary, prices and availability BEFORE planning your cruise vacation. "Cruise Taxes, Fees, and Port Expenses" if charged, may include any and all fees, charges, tolls and taxes imposed on cruise line, by governmental or quasi-governmental authorities, as well as third party fees and charges arising from a vessel's presence in a harbor or port. Cruise Taxes, Fees and Port Expenses may include U.S. customs fees, head taxes, tolls, dockage fees, wharfage fees, inspection fees, pilotage, air taxes, hotel or VAT taxes incurred as part of a land tour, immigration and naturalization fees, and Internal Revenue Service or the equivalent fees, as well as fees associated with navigation, berthing, stevedoring, baggage handling/storage, and security services. Cruise Taxes, Fees, and Port Expenses may be assessed per passenger, per berth, per ton or per vessel. Assessments calculated on a per ton or per vessel basis will be spread over the number of passengers on the Vessel. Cruise Taxes, Fees and Port Expenses are subject to change and the cruise reserves the right to collect any increases in effect at the time of sailing even if the fare has already been paid in full. *Prices and availability are subject to change at any time. Prices are for the lowest priced cabin, often an inside cabin, for the first couple of cruises for the season: Alaska [ May-Sept] Prices go up as the Summer goes on. June, July and August are more expensive than late September or early May. Prices are provided by our cruise line partners and are per person, based on double occupancy and may not include all taxes and fees. Deals are shown in U.S. dollars, and available only for US and Canadian residents. Perks @ Sea Extras may be available for your sailing. These bonus extra's may include one or more extras such as; free cabin upgrades, free onboard spending credits, free gratuities, kids sail free or at reduced rates, free shore excursion(s), free specialty dining,or free wifi. Not all sailings offers bonus extra's, so you will need to call us at 800.365.1445 to learn if your chosen cruise line, cruise ship and sailing date include one or more of these offers. Restrictions may apply. Shipboard Credit: Shipboard credit if offered, can be redeemed and used only onboard the booked cruise. This is a commercial we site, containing advertisements from us, travel suppliers and cruise line partners. We are an unbiased travel information - reservation service provider, a member of the Travel Leaders Network and a member of the Cruise Line International Association (CLIA) representing 24+ cruise lines. We help you search, find and learn about travel products/services, Alaska destinations, sightseeing, and local culture. We have information and inspiration from third-parties such as shore excursions, cruises, cruise tours, trip insurance, rail tours, lodges & hotels, motorcoach transportation, and land+sea journeys. At the time that we publish the information, it is valid. However, we have no control over the suppliers, and we therefore do no warrant or guarantee that their offers, pricing and availability will not change or become unavailable at the time of your inquiry. Nor are we responsible for their products, services or site content. We do provide personalized planning services, with all the latest up-to-the-moment best prices, cruise deals, promotions and cabin availability via a toll-free number : 800.365.1445. You can chat with a Certified Alaska Travel Advisor, ask all the questions you want, get the answers you need and decide when and how you want to book your vacation. The conversation, and advice is free and there is never an obligation to book. Travel Direct Corporation is the website owner and the cruise line Materials and Marks used are "owned by the cruise line. or its affiliates". Travel Direct may receive compensation for some links to products and services on this website. Offers may be subject to change without notice.
Special Requirements
If you or a guest is pregnant or traveling with an infant child, you will need to communicate that, as well as any request for special meals, medical conditions or physical challenges. You are required to let the cruise line know and make appropriate arrangements at the time of your initial booking. You could be denied boarding for failure to disclose any special requirements. There are restrictions to travel for certain physical needs and pregnancy
© 2021 Cruise Direct Online - Travel Direct Corporation - Fla. Seller of Travel Reg. No. ST-31254 - All Rights Reserved | 800.365.1445